Beginning from the Beginning: The Growth of Understanding and Skill centers on a discussion of Alexander Technique teachers Joan and Alexander Murrays' collaboration with Alexander Technique student, anatomist and world-renowned anthropologist Raymond Dart on the "Dart Procedures." The Dart Procedures and related procedures are based on the observation of the natural coordination of infants, young children, and animals from an evolutionary perspective. This conversation is a fascinating exploration of how the Procedures and other developmental work can be used to increase understanding of the Alexander Technique, from clarifying key principles and concepts to improving "hands-on" teaching skills. The book also covers less well-known information about the development of the Procedures and addresses common misconceptions.

The first half of the book consists of interview text; the second half consists of over 100 photographs illustrating topics discussed in the text, including the Dart Procedures, developmental movement, and direct applications of the Murray/Dart developmental approach to learning and teaching the Alexander Technique.

Beginning from the Beginning is recommended for Alexander Technique teachers, teacher-trainees, and serious students of the Technique who are familiar with the Dart Procedures. Published by the Alexander Technique Center of Washington. Recommended companion reading: Skill and Poise: Articles on Skill, Poise and the F. M. Alexander Technique by Raymond Dart.

"I never saw the point of the Dart Procedures until I read this book. The illustrations bring them to life. I recommend it highly."

Peggy Williams, Senior Teacher
Graduate of F. M. Alexander's final training course

"...The Procedures are a major step forward in Alexander teaching....This is an invaluable book."

Don Mixon, Professor Emeritus of Social Psychology
Wollangong University, New South Wales
Alexander Technique Student

"We are given fascinating glimpses into historical connections...This book is a feast of information and inspirational insights."

Malcolm Williamson, Former Chairman
Society of Teachers of the Alexander Technique, UK

For international shipping option, please use Google Chrome or Safari browsers.
To look in the mirror, this nine-month old baby brings herself to an upright stance for the first time.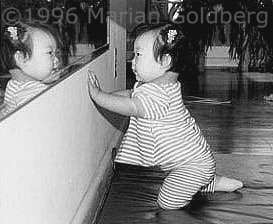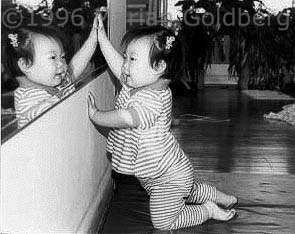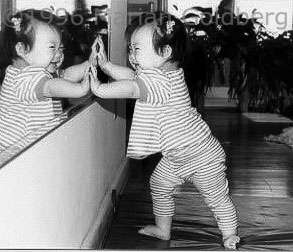 All Photos Copyright © 1996 Marian Goldberg